Our Innovation Process
We begin the process by obtaining your brief. From there we source and engage with companies that have the necessary competencies to deliver to the brief, and are willing and able to do so. We then begin to push the boundaries of possibility to see how we can improve on the brief. We develop a confidentiality agreement and get to work, developing samples for your review. Once we have your signoff on samples we commence with establishing packaging formats and determining all the options. Pricing is integral to this process at this juncture. Selections are made and the pack design process commences. At the same time we work with you to establish optimum packing and containerization configurations. All artwork costs are for your account, as are any tooling costs. You advise us what Incoterms you want. We receive your container order; issue a proforma invoice which you sign. You issue a Letter Of Credit and manufacturing commences. Upon completion of manufacture products are shipped to their final destination either through your freight forwarding agents, or ours. It's that easy!
We sourced manufacture for a range of Rice and Rice & Corn crisps under the VitaSnack brand, in five flavour variants.The products were developed for a South African client, Snackworx, part of the AVI group of companies.We took control of the logistics process, from point of manufacture in South East Asia, to arrival in the port of Durban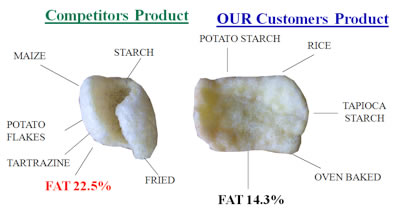 Working together with the technical team at our offshore manufacturer's base, we formulated a baked product with a fat content of 14%, which is almost half the fat content contained in competing local potato crisps, and with zero trans fats. Perfectly and consistently shaped for dipping. Baked not fried, blended with rice, potato and tapioca, no added msg, and tartrazine and preservative free, this product rocks! Oh and it tastes great too!