Product Development & Sourcing
Our passion is to create and develop commercially successful snack; food and consumer products for our clients. We work with a number of major retailers as well as leading consumer products companies in Australia, South Africa, Thailand, Japan, China, Singapore and Europe. We are able to co-ordinate everything from initial product design and formulations through to manufacturing and production, quality control, assembly, packaging, logistics, and delivery. We view markets and resources from a global perspective, understanding how to make modifications that result in the delivery of world class proven high quality formulations that meet the specialized unique tastes of regional consumers. For example we were the first company to develop a peri-peri flavoured rice snack for the specific needs of the South African market. And we were the first to introduce Wasabi flavoured rice crackers into South Africa for our client Snackworx under their Vitasnack brand.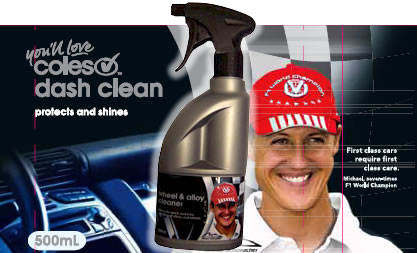 We assisted the Coles Supermarket Group in Australia in sourcing manufacture and development of a range of Car Care products endorsed by Michael Schumacher under the Coles Private Label. A range of 7 products were developed in both trigger spray and cap delivery formats, consisting of the following: Dash cleaner; Engine cleaner; Glass & Chrome; Hand Cleaner; Liquid Polish; Wash & Wax & Wheel and Alloy. Sadly due to the manufacturer not effectively sealing the rights to use Schumacher through their licensing agents, Schumacher's retirement saw the commercialization of this range fall through.


We developed a "healthier style" snack for the PnP retail group. Wholegrain seeded rice crackers, offering consumers an alternative option to traditional Provita Wholegrain. Octagonal in shape; in 3 varieties, Pumpkin & sunflower seed; Sesame seed; and Flax & sesame seed. What makes these products so amazing is that they contain more than 90% whole grain; are made up of
brown rice and seeds, have ZERO cholesterol; contain less fat, sugar and salt than Provita Multigrain, and are a fantastic source of fibre! Delicious as a carrier, perfect for entertaining with pates; cheeses; dips and salads or even on their own!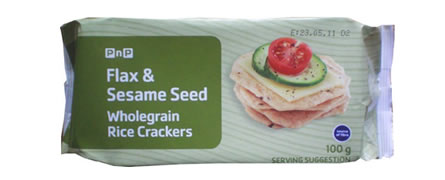 "In Consumer Land, if you're not moving in a direction relevant to your target market, you fall behind and die"
John Gerzema & Ed Lebar, The Brand Bubble, 2008.

We were awarded the PL Instant Noodle business for Makro SA, part of the Massmart Group. Makro introduced the Little Cook Instant Noodle range as an initial offering.